Paris, Je T'aime: Sugar-coated Paris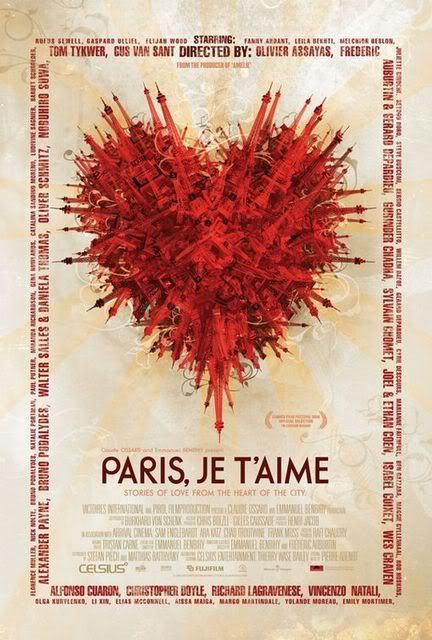 Thank to the generosity's of Australian Centre for Photography, I and Stilgherrian have a chance to see an advance screening of Paris Je T'aime. It is an interesting and challenging project—18 different love stories taking places in Paris districts from different directors. We see the diversed lives of the people in the city: lonely Parisians, grieving mother, couples in the edge of their relationship, disadvantage migrants and, of course, clueless tourists.
Nothing is new about a collaboration of directors telling different stories under one theme. The style becomes the genre itself. New York Stories is closest cousin to this film. But to line up 18 shorts together is quite an ambition. It is another hi-concept that could be the problem itself, in other words, there are too many. It is like watching SBS's SOS with the certain theme on Saturday night but less variety of style.
Despite the big names such as, Gus Van Sant, Gérard Depardieu and Wes Craven, few of them deliver a fresh feeling of love and emotion. No need to talk about each segment, most of them are pretty much the same with the exception of Vincenzo Natali's Quartier de la Madeleine, Coen Brothers' Tuileries and Alexander Payne's 14th arrondissement. What puzzles me the most is the weird and dream-like segment, Christopher Doyle's Porte de Choisy which jumps out from all of them. He not only stamps his signature on Kathy Li's cinematography, but prove his strong connection to the orient.
After the screening, I have a craving for spicy food. We go to Snakebean Asian Diner on Oxford Street and have Thai late dinner there. Ironically, the food is still a bit too sweet for my taste buds.